Check Backlinks of a Web Property
By Approbo Tech
Backlinks are one of the highest ranking factors in Google and many other search engines. These are links to your site (or the website you are going to purchase) from an outside site. They often have anchor text, which is the part of the URL that explains what the link is. The better the site linking to you (in the eyes of the search engine), the better the boost/juice you get from them. You can check previous articles on how to research the domain name, or how to sell your online business.
What are we looking for when checking backlinks?
Well we want to make sure they haven't been using spammy SEO techniques that have links from thousands of bad sources. Once you start to learn what to look for, it becomes very apparent that's what they did.
For example here is a URL: "Anchor Text"
There are a massive number of tools out there for this, here are a few:
ahrefs (paid)
Majestic (paid)
Since I have a subscription to SEMrush, here is an example using their dashboard and tools. Note, this is for researching a web purchase, not how to build your own backlinks. You can do the same thing to research competitors and go from there. There are tons of articles on building backlinks, just keep in mind, great content rules!
In SEMrush go to domain analytics -> overview and type in the domain name you are researching. Let's start with airbnb.com.

From here we can see there are 2.6 million backlinks and more importantly, 36.9 thousand domains that refer back. Domains have been shown to be more important from google, since having different web properties link back is a sign of higher popularity/good content. If the same website links back on every page, then it doesn't get the benefit of each link individually. They are aggregated as one link (we believe).
Now we click on the 2.6M and start to view the types of links, anchor texts, and get an overall feel for what is out there.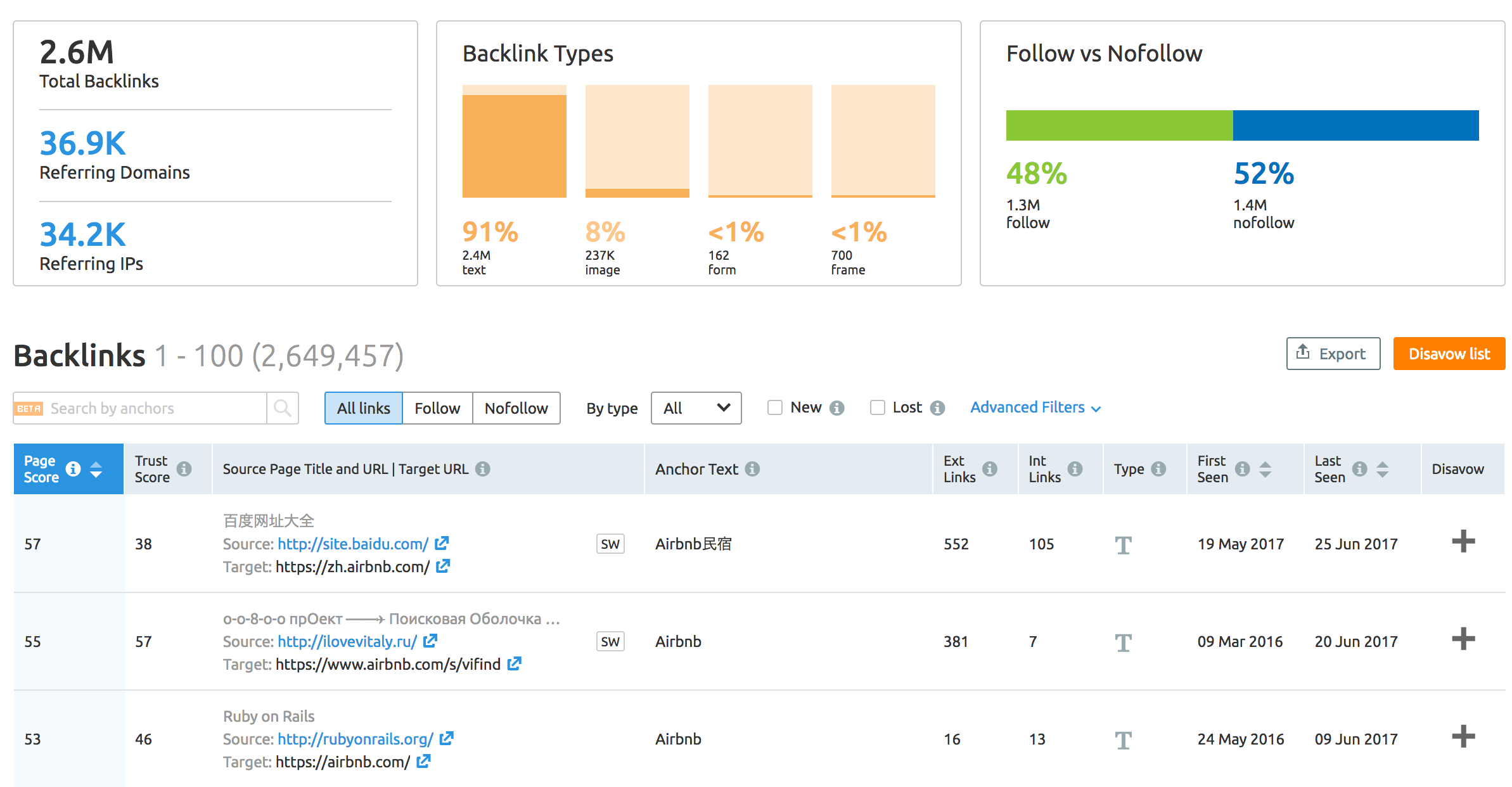 "
That's a lot of info!  We can see they get 5.8 Million searches, the backlinks are mainly text based (91%), some images (8%), and it's about 48% of follow links. Many believe follow links only matter, but it's possible Google looks at nofollow links as well to guess how worthy a site is.
We can start to see the anchor text that shows up near the bottom. The page score is SEMrush's belief in how trustworthy the page/site and how much it thinks the search engines like their content. We can also see how many links the page has to other websites (external) and to their own website (internal). The top result has many more external links than internal, which sounds like more of a directory type page.
From here we can click on each backlink and investigate, we want to see what type of sites of are linking to our target. This is often called the smell test, are these stinky sites? Spammy low quality content sites? If so, then that could mean trouble down the road.
It's also a good idea to run this through multiple tools and see the difference between them. Some tools are better at finding the spammy links than others.
A good metric to look at is the percentage of links to domains. In this example we have 2.6M links with 36.9k domains, which computes to around 14%. This is a decent amount of domain diversity. We typically look for 10-40%. This also applies for the referring IP addresses, we want to see almost the same amount of different IP's. In this case it's pretty close, so that's good.
Anchor Text Diversity
Now let's click on the Anchor Text tab to see what the top fields are that people use to link to this site:
Here we can see the top result is "airbnb", which looks pretty natural. The next one is empty, which means they only provided the URL and not something between the tags.
So keep going down this list and see if there are any spammy texts, like pharmacy links, or random coupons. We are also looking for signs of a PBN or private blog network. These are going to be random sites that may or may not be in a related industry. Typically these are very thin sites running blog software with a few articles. They are just sending links/traffic to the web property. It is important to ask the seller if they are using these sites, and if so do they come with the sale. If not, what guarantee do you have they are going to stick around? We tend to avoid PBN deals.
It is important to note that the backlink profile isn't going to be complete. Many sites ban crawlers in their robots.txt file, so you probably are not going to find the good PBNs through this. They are only targeting google and other search engines, so they want to ban the rest.
So these are the main points of a backlink profile, the more you look at sites the quicker you can get a sense for what the site did for it's historical SEO. Many sites tried to spam comments, find wordpress vulnerabilities, you name it they did it. While that worked for a bit, Google has a ton of PhD's who's entire job is to find these issues and weed them out. You can also check archive.org to see if any of the linking sites might have changed in the past as well!
If you are interested in selling your online business, send us a note and we can chat.